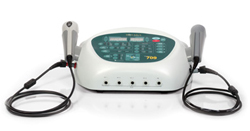 Laboratory and clinical studies have proven Light Therapy to be effective for tissue repair related to: Ligament Tear, Tendon Ruptures, Bone and Dental Tissue, Ulcer.
However, available evidence suggests beneficial effects for many pain conditions including, but not limited to following: carpal tunnel syndrome, neck and back pain, acute phase harpes zoster (Shingles), post-herpatic neuralgia, TMJ pain.
Light Therapy promotes:
inflammation
fibroplasia
formation of new blood vessels
collagen synthesis
Light Therapy can effectively treat a number of soft-tissue injuries, pain, and inflammatory condition. Recently, this exciting technology was cleared by the FDA for the treatment of pain and stiffness associated with arthritis. This is particularly important and timely in light of recent published concerns regarding the safety of traditional arthritis medications.
Light Therapy is backed by extensive research with hundreds of published studies covering a wide range of conditions including arthritis.
Light Therapy is also effective in treating a number of soft-tissue injuries, pain, and inflammatory conditions as:
Heel Pain
Knee Pain
Elbow Pain
Hand Pain
Neck Pain
TMJ Pain